Adam Village
Adam Village
is a Greek packaging and trading company concerned agricultural organic products from selected and certified crops of the Greek mainland and islands. The main objective of the company is the high packaging quality, combined with innovative promotional and trading methods, of selected and certified products within the Greek country and foreign markets.
Adam Village:
Selects and cooperates with producers whose products meet the highest standards (traditional varieties, certified production methods, harvest, drying and storage).
Cooperates with young designers, creating artistic and innovative packages with a unique identity.
Applies a complete concept that allows Greek food to be placed at the shelves of the most demanding stores. (Information regarding the certifications of the producers and the company, as well as historical and scientific reports on the nutritional value of each specific product, exist on the packages and the additional documents).
Herbs, the ancient Greek secrets of welfare
Adam Village started with the packaging and trade in Greek organic herbs in one line under the name "Adam village herbs''.
Greece is renowned for its unique bio-diversity and its rare varieties of herbs with aromatic and therapeutic qualities. This is due to the Mediterranean climate, the long periods of sunshine, its rich geomorphology, the traditional seed varieties, the pure cultures and the herbs' collection, which is done by hand. The Greek aromatic herbs have been used since ancient times as infusions as well as spices in cooking and confectionery.
We -the people who work and design for Adam village- have chosen to share these ancient secrets with you. Since they constitute nature's treasures, we have decided to store and offer them in unique packages on which there is information about the infusion's qualities and preparation methods in four languages. (Greek, English, German, Russian).
Production
Adam Village cooperates with certified organic growers from Grevena, Thesprotia, Thessaloniki, Kozani, Samos.
The products are packaged in certified packing centres for organic products in Thessaloniki, where the company's head office is located.
Adam village has been certified by DIO Inspection and Certification Organisation of Organic Products for the correct application of the European Union Regulation 834/2007 (Certification code 21191130146) and has a certification for Food Hygiene and Safety Management Systems Compliance ISO 22000:2005.
Oregano-The ancient secret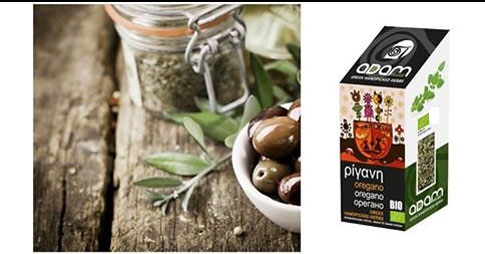 Oregano's "hidden" health secret
The ancient Greek doctor Hippocrates used oregano for most of his patients' treatment since its antioxidant effect is considered to be 12 times stronger than that of orange. The Greek oregano is valued as the best in the world.
Sage- does wonders for your memory!
Shopping
During nearly 2 years of Adam village operation, our products have been promoted in delicatessens and organic shops in Greece while they have already been placed on the shelves of selected shops in Austria, Belgium, Switzerland, Great Britain, Germany, Italy, Cyprus, Copenhagen, Toulouse and Singapore.
They have already been presented in Exhibitions in Greece and abroad ( FOODEX in Athens, THESSALONIKI INTERNATIONAL FAIR, L'ARTIGIANO IN FIERA in Milan, Farmers Market in Copenhagen)
Logistics Data
Individual packaging (rosemary, thyme, verbena, oregano, sage, mountain tea/sideritis) made of strong, opaque carton on the outside (for the protection of the product from light exposure) and airtight packaging suitable for food products on the inside. The outside packaging has a small window on the side to allow the buyer to check the quality of the product better. The product's expiration date, the barcode, the lot and information on each herb separately in 4 languages (Greek, English, German and Russian) is written on each package while there is the option to add another language, depending on the order. Storage takes place in specially designed shady places under the appropriate temperature and humidity conditions. Size Individual package size L5.5 X W6.5 X H14.5 cm Size of cartons containing 12 individual packages (of one product or mixed, depending on the order) L26.5 X W17.3 X H14.5 cm Size of cartons containing 40 individual packages (of one product or mixed, depending on the order) L40 X W30 X H20 cm The Europallet (height up to 1.80 m) contains 252 cartons of 12 individual packages(252 X 12=3024 individual packages) in 12 levels (there are 21 cartons in each level) or 72 cartons of 40 packages (72 X 40=2880 individual packages) in 9 levels (there are 8 cartons in each level) Adam village cooperates with shipping companies which ensure an economical, fast and safe product shipping and delivery. If agreed otherwise, delivery can be made to a shipping company chosen by the trader/buyer in Thessaloniki or Athens.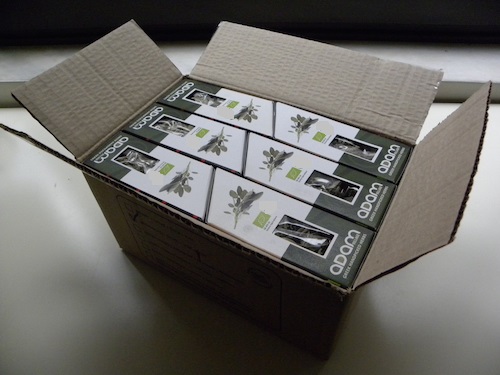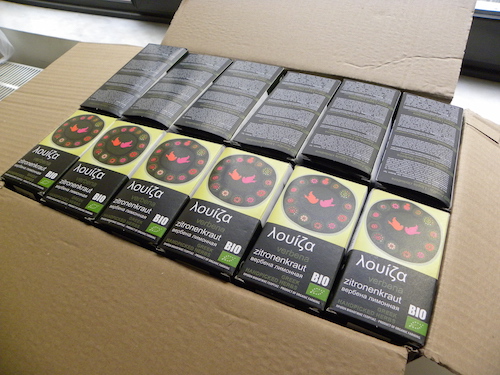 Contact
Irodou Attikou str, 54624 Thessaloniki Greece
Tel: +302313055704
Mobile: +306945795408
e-mail: [email protected]