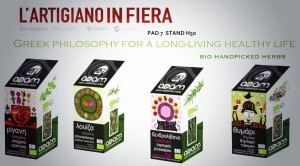 ''Artigiano in Fiera is a unique event: a meeting point for learning and embracing the working traditions and cultures belonging to over one hundred countries, in a joyful atmosphere''.
It is a meeting point where visitors can come into direct contact with the culinary culture and the world or craftsmen. A place where tradition meets innovation.
Adam herbs were there, impressing the visitors with their high quality and artistic packaging design.